The Latest from Travel…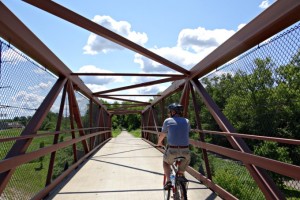 I loved this paved trail through farm country. It gave me that feeling of getting away from it all, without going too far.
[Read More...]
We arrived at the bathing platform early enough to stand in the corner next to the red ants. A Japanese tourist gestured with his head and both hands in warning, "No, Ninja!" We knew what he meant.
[Read More...]
Just because you don't know where you are, doesn't mean you're lost.
The Journey…
I was coming out of a night's sleep, eyes closed, not yet awake. I gazed detached at a handful of coins placed in front of me. Someone spoke, "Do not be afraid of change."
[Read More...]
Before you read further, consider this question, and find the answer unique to your heart. Write it down.
[Read More...]
Are there things you've done—that you wish you could wipe the slate clean, and begin again?
A Picture's Worth…
These flowers were accidentally delivered to our house one spring. The seed company said we could keep them even though we didn't order the 3 plants that arrived. It's one of my favorites.