There was a steady stream of cars that turned onto the muddy farm road. Christmas music played on the radio.

It was a little frightening to drive into a thawing farm field with a Toyota Prius. Directed by a man with a red, glowing wand of light, we pulled in close. An SUV pulled in alongside us.
Dad grumbled as we walked over stumps of cornstalks in the dark. Mom called out the slippery spots. Thirty six degrees made an unusual mixture of mud and ice.
We made our way toward the barn guided by luminaries and Christmas lights.
Once inside, we took up three quarters of a wooden bench on the right hand side of the stable—Mom, Tom, Dad, then me.
The man who sat beside me and I discussed the smells – the pine bows along the ceiling trusses, hay and the dirt floor beneath our feet. Would there be animals we wondered?
He said this tradition began many years ago out of necessity. Peace Lutheran church didn't have their own building. They were shut out of the schools during the Christmas and New Year's holidays. It was then the first family offered their barn for Christmas services.
On his song sheet he had one line written. Behold… I asked if he had a part in the event. He did. What he wrote was a reminder of how he wanted to start what he would say. When I saw "Pastor Mark" written there as well, I asked if he was the pastor of the church. He was. How nice it was to hear the history from him.
The service began.
Oh, Come All Ye Faithful
Mark spoke about the smells in the barn. He confirmed with Chad and Amy Leither, the barn owners, that there would be no animals inside, just the imperceptible clucking of chickens outside. And then came his behold…
We Sang
We sang songs in-between pieces of the Christmas story. It was a wonder-filled, participative event. Children enacted the readings, and we joyfully sang.
Away in a Manger
The Angel Gabriel appeared to Mary.
You will conceive and give birth to a son, and you are to call him Jesus.
She was asked to do something unprecedented. What trust she must have had in God.
Mary's words from the Greek translation were rarely used in those days. They would have been punctuated with three exclamation points and spoken with outstretched arms filled with joy. "I am the Lord's servant," Mary answered. "May your word to me be fulfilled."
Hark the Herald Angels Sing
When Joseph discovered Mary was with child, he decided to divorce her quietly. That night an angel came to him in a dream and said do not be afraid to take Mary into your home. When he woke, he did as the angel asked.
Oh Little Town of Bethlehem
Mary and Joseph made their way to the City of David. It was Caesar Augustus who called for the first census. They, along with everyone else, went to register.
So many people journeyed to this small city. Alas, there was no more room in any of the Inns. At last resort, someone offered Mary and Joseph a place to sleep in their stable among the livestock.
Silent Night
In the manger, their son was born and they called him Jesus.
The First Noel
After Jesus was born, an angel appeared in the dark of night to shepherds taking care of their flocks of sheep. How terrifying to have the night sky illuminated by brilliant light accompanied by an angel. Can you imagine?
Do not be afraid. I bring you good news that will cause great joy for all the people. Today in the town of David, a Savior has been born to you; he is the Messiah, the Lord. This will be a sign to you: You will find a baby wrapped in cloths and lying in a manger.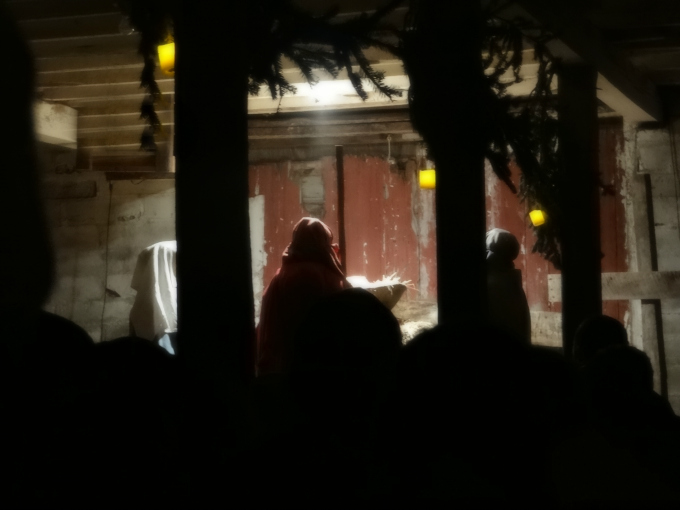 They spoke of what the angel said and told of it in their circles. Later, travelers who followed a star journeyed to Bethlehem and offered to the child a baby shower of gifts.
Joy to the World
Back then, there were no luminaries or Christmas lights to guide the way, but instead a brilliant star in the darkness of night. Today, that star lies deep within our hearts and waits to shine.
May your heart be like the simple stable of Bethlehem where the Savior of the world was born.
Merry Christmas