This man has hung on my wall for 8 years. I have no idea who he is.
He reminds me of what it was like in Assisi: cobblestone walkways, colorful potted flowers, and a sense of peace. Could you be hanging on a stranger's wall, too?
Assisi is the home of St. Francis and St. Clare. Even though they lived many years ago, there's a sense of peace evident throughout the walled city.
Just down the way, there was this fountain in the Piazza Comune. There was no one else around. It was quiet.
Tom and I walked up to the sanctuary of St Francis. We could have taken a cab or a bus, but we walked instead, taking his path up into the hills.
On our way down, a group of woman asked us the same question that we asked of those coming down before us. How far up? How much longer?
They spoke to us in Italian. We didn't speak their language, but we knew exactly what they were saying. You're almost there.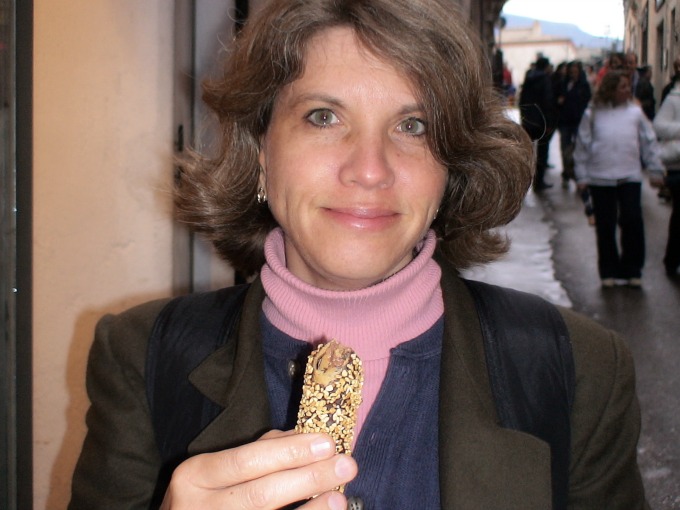 Back in Assisi, we stopped for a sweet treat. For me, some chocolate from Pasticceria S. Monica. For Tom, some gelato from Gelatoria S. Monica.
After that, a parade of young women and men danced to a flute and drum. They were dressed in ceremonial costumes.
The women wore wreathes around their heads and carried flowers. They were escorted by young men wearing long robes. We followed them into a church.
Much to our surprise, we soon realized we were at Mass. We followed along by the cadence and certain familiar words. I responded in English. It was April 30th, a Mass in celebration of May Day.
Are You on Someone Else's Wall
I walked past the picture yesterday of the man on the cobblestone street and wondered how many people hang on the walls of strangers. I wonder if you are hanging on someone's wall. Do you have a photo with someone you don't know?
Today is the Feast Day of St. Francis of Assisi.
Image Credits: Assisi Italy 2006 Marie LaForce