While in Thailand, one of my favorite experiences was the Maesa Elephant Camp. There, we saw elephants paint.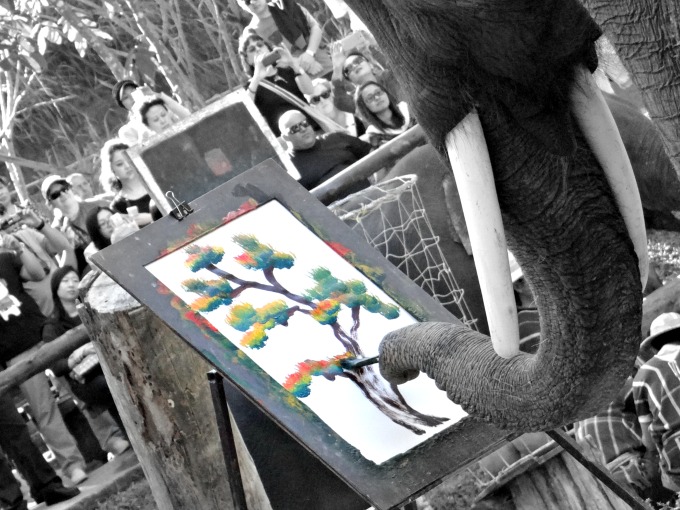 At 10 am, the elephant parade started, and so did the show. They dropped balls in hoops, threw darts at balloons, and bowed for praise. They also demonstrated how to paint.
They carried in their supplies, and began. Watch this tusked pachyderm steady the brush, and paint his picture.
Trouble? View on YouTube here.
Four elephants created some remarkable paintings. After the show, staff displayed them for sale. They sold quickly.
How do you get an elephant to paint?
With each mark, the mahout (elephant trainer) tugs at the elephant's ear. He nudges the ear up and down to get the elephant to make a vertical line, or pulls it sideways for a horizontal line. To get a spot or a blob, he tugs its ear toward the canvas. If you watch closely in the video, you can see the mahout across the way providing these directions.
I didn't notice this during the show, but learned about it after returning home. Each elephant creates the same picture, day after day. See here. What seems like creativity is training. The painting is beautiful, but at what cost?
Traditional Elephant Training
Most domestic elephants are trained by a technique called phajaan or crushing. A young elephant is taken from its mother when it is three, and roped into a small bamboo cage.
When it tries to get out, it is beaten with a bamboo stick. The stick has a bent nail on the end. It is believed an animal must fear its trainer, if it's ever going to listen. It is starved, dehydrated, and sleep-deprived, until it submits to its trainer's demands.
At Maesa Elephant Camp, I heard an explanation for the chains on some elephants, "They were naughty and tried to run away."
I didn't notice the training implements at the time, but you can see the sharp hooks at the end of each stick in this photo. Notice the relationship between the mahout and the elephant in the painting video.
There is call to change training techniques for animals, and instead, use positive reinforcement called protected contact. This type of elephant treatment can be found at the Elephant Nature Park, where they practice ethical treatment of animals, and offer experiences to visit for a day or volunteer.
The mechanics of Maesa Elephant Camp
The elephant show (10 am), elephant nursery, and watching the elephants bathe (9:40 am) are free.
Other activities:
Fifty minute elephant ride 600 baht ($18.75 US)
An elephant dung, framed photo of you on your elephant ride 200 baht ($6.25 US)
One bunch of bananas and sugar cane to feed an elephant 40 baht ($1.25 US)
Photo ops 100 baht ($3.15 US)
Elephant painting from the show 2000 baht ($62 US)
Other elephant paintings in various sizes, artistic level, and price ranges are available
This morning excursion is included (no extra charge) in the SmarTours Amazing Thailand Tour.
Is the solution present in the problem? Is it possible that all parties involved, are part of the solution, like this?